Industry Leading Clinical Capabilities
By implementing innovative bedside technology in the air medical setting, flight clinicians are able to leverage data-driven information to provide seamless, optimal care. To enable a true continuum of care from a scene incident or from the referring hospital to the receiving hospital, a broad variety of medications and technology must be quickly accessible and deployed on-board the aircraft.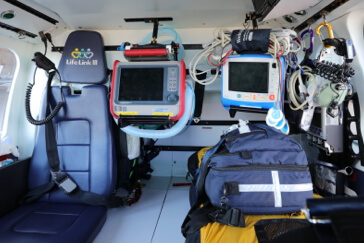 Innovative Clinical Technology On-Board Every Flight
Life Link III is proud to provide the highest level of patient care through its innovative clinical care capabilities. Clinicians are trained to utilize the following in-flight:
epoc Point of Care Lab Testing
Philips Lumify Point of Care Ultrasound
Hamilton-T1 Ventilator
Baby Pod
LUCAS ™ 2 Automatic Chest Compression Device
2 units Whole Blood (with QInFlow Warrior Blood Warmers)
Considerations for Helicopter Transport
Patient's clinical condition requires minimization of time spent outside the hospital
Patient requires specific or time-sensitive evaluation or treatment not available at the referring facility
Patient located in an area that is inaccessible to ground transport
Patient requires critical care life support, which is not available with ground transport options
Use of local ground transport would leave the area without adequate EMS coverage
Critically ill or injured patients requiring specialized services such as a Level 1 Trauma Center, Cath Lab, Stroke Center, PICU or NICU
Life Link III can monitor and treat critically ill or injured patients, including:
Multi-system trauma patients
Spinal cord injury/neurological patients
Head injury patients
High risk obstetrical patients
Newborn intensive care patients
Cardiac, pulmonary and internal medicine patients
Burn patients
Limb reattachment patients
Transplant patients
Pediatric trauma and medical patients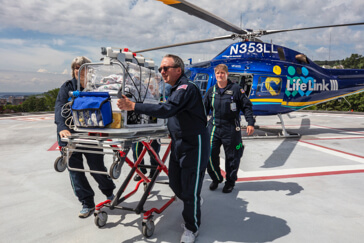 Specialty Transports
Life Link III performs ECMO and balloon pump transports and is also the exclusive air medical transport service for five Neonatal Intensive Care Units (NICU) teams.
Fairview-University Hospital
CentraCare-St. Cloud Hospital
Essentia Health-St. Mary's Hospital
Children's Minnesota
Marshfield Clinic Medical Center.
Our Team
Air medical transport crews are staffed by flight certified registered nurses and paramedics. Life Link III crews are comprised of a pilot, flight nurse, and flight paramedic. Life Link III's advanced providers have years of hospital intensive care, emergency room or 911 experience. Our clinical staff members undergo extensive, continual in-service education to ensure the most advanced critical care and technology are provided to any patient requiring specialized care. If needed, specialized teams and/or physicians will accompany Life Link III transport team members.
EMERGENCY DISPATCH 800.328.1377