Setting the Standard in Air Medical Transport
Life Link III's fleet of Leonardo AW119Kx aircraft are designed to provide a great option for patient transports. This fleet of aircraft offers safe, reliable, efficient and fast rotor wing transport with the latest in aviation and clinical advancements. State-of-the-art mobile medical equipment has been installed to ensure our teams can provide exceptional care for all types of patients including neonates.
Learn more about the Leonardo AW119Kx HERE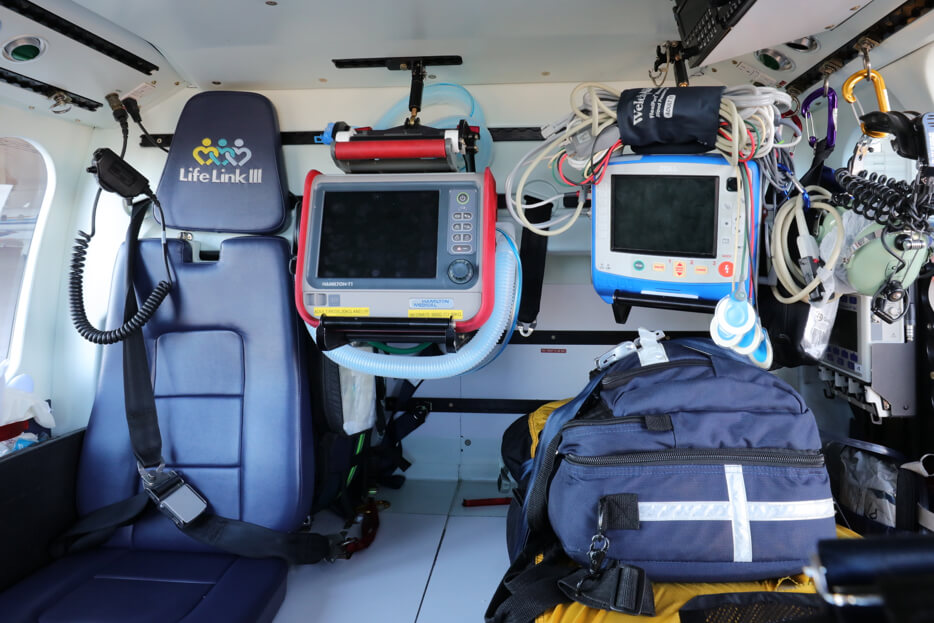 Aircraft Specs
Garmin's G1000H Integrated Flight Deck system
Dual Global Positioning Systems (GPS)
AFCS 3-axis duplex
Radio altimeter
ELT
Synthetic Vision System with Highway In The Sky (HITS) display
Helicopter Terrain Avoidance Warning System (HTAWS) with terrain & obstacle database
Night-Vision Goggles for pilot and medical crew
Dual Integrated Avionics Unit (IAU) including; VHF/AM communication, VOR/ILS navigation, GPS/WAAS navigation, Aural Warning Generator (AWG), ADF and DME tuning interface
Mode S transponder with Extended Squitter (ES)
24/7 In-flight tracking and monitoring by the Life Link III Communication Center
Flight data logging through SD card
Fixed hard-mounting brackets that secure all medical equipment.
Considerations for helicopter transport:
Patient's clinical condition requires minimization of time spent outside the hospital
Patient requires specific or time-sensitive evaluation or treatment not available at the referring facility
Patient located in an area that is inaccessible to ground transport
Patient requires critical care life support, which is not available with ground transport options
Use of local ground transport would leave the area without adequate EMS coverage
Critically ill or injured patients requiring specialized services such as a Level 1 Trauma Center, Cath Lab, Stroke Center, PICU or NICU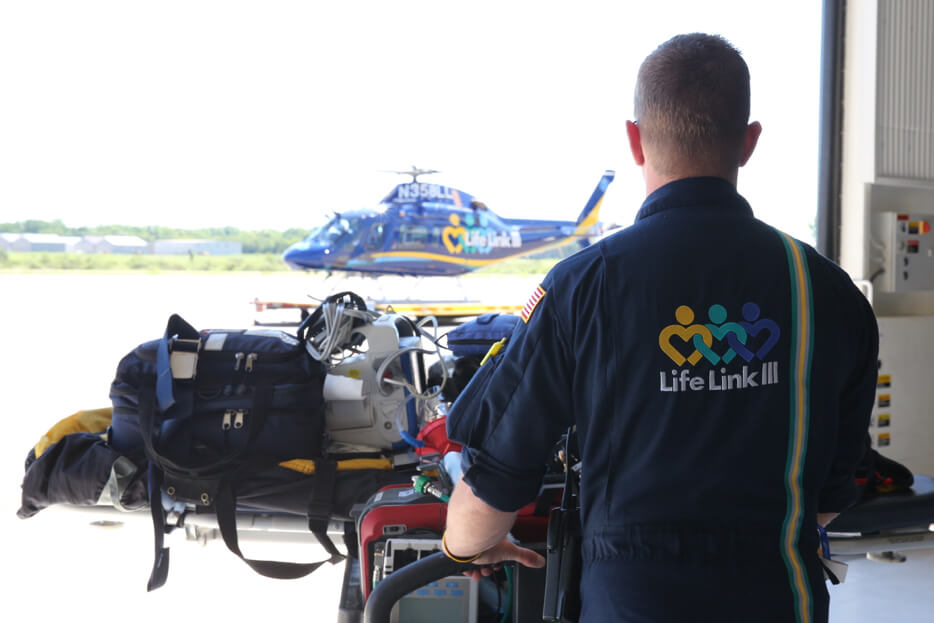 Crew
Helicopter transports are staffed by registered nurses and paramedics. Life Link III's advanced providers have years of hospital intensive care, emergency room or 911 experience. Our clinical staff members undergo extensive, continual in-service education to ensure the most advanced critical care and technology are provided to any patient requiring specialized care. If needed, specialized teams and/or physicians will accompany Life Link III transport team members.
Pilots are experienced aviators and have each logged thousands of hours of flying time. They also take on-going recurrent training in their respective areas.
EMERGENCY DISPATCH 800.328.1377