Service is Available 365/24/7 throughout the United States
Life Link III has a dedicated, medically-configured airplane ready at all times and has access to additional aircraft for further support. Airplane transportation may be an option for your patient if the transport distance is greater than 150 miles or if helicopter transport is limited by weather.
With just one call to the Life Link III Communication Center you can arrange bedside-to-bedside transport for your patient. Airplane transportation is available for all types and ages of patients including neonates and those who require circulatory support requiring ECMO and balloon pumps. Our fully-equipped medical cabin includes state-of-the-art medical equipment and the ability to transport specialty teams to ensure the highest level of patient care.
Life Link III's transportation services are accredited by CAMTS (Commission on Accreditation of Medical Transportation Systems), ensuring the highest standards of quality and safety are met on every transport.
Learn more about the Pilatus PC-12 HERE.
Aircraft Specs
Features IFR (Instrument Flight Rules) capability offering increased options for patient transport when adverse weather impacts other means of transport
A 330 cubic foot pressurized passenger cabin with seating for up to 7 individuals (pilot, co-pilot, 5 seats in rear) in addition to patient stretcher
Honeywell Primus Apex Integrated Avionics System for easy single-pilot operation
Large cargo door on left-hand side of fuselage
Hartzell five-blade composite propeller
1,200 shp Pratt & Whitney Canada PT6A-67P turboprop engine (1,845 shp thermodynamic power)
Able to accommodate specialty transport (neonatal, ECMO) teams and family members
Advanced electronic patient loading system for wide (aft) patient access door (53in x 52in) in addition to a standard, forward passenger access door
Custom-configured to accommodate specialized air medical equipment
285 (328mph) knot maximum cruise speed
Capable of flying up to 1,845 nautical miles and operating from short runways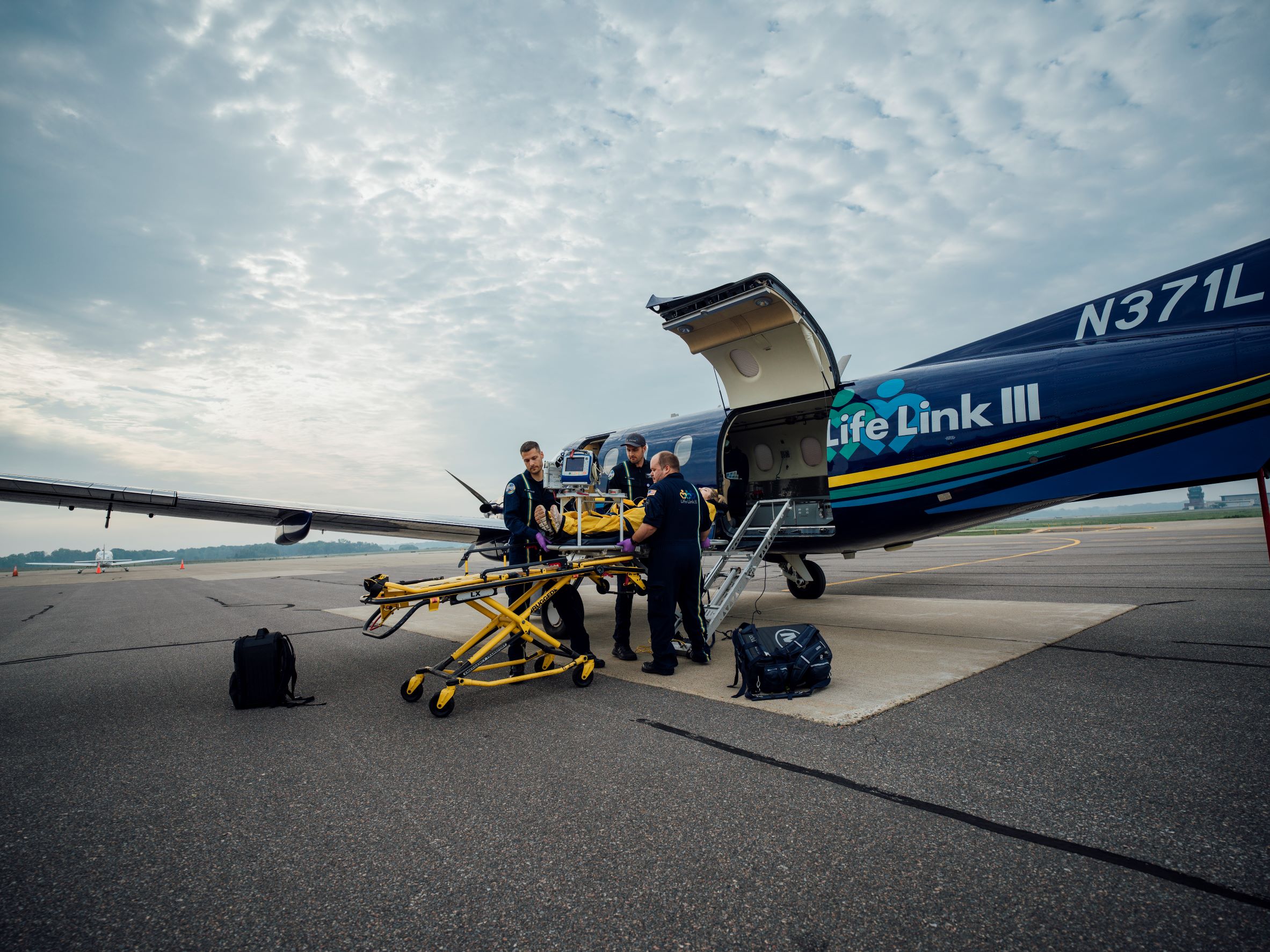 Crew
Airplane transports are staffed by registered nurses and/or paramedics. Life Link III's advanced providers have years of hospital intensive care, emergency room or 911 experience. Our clinical staff members undergo extensive, continual in-service education to ensure the most advanced critical care and technology are provided to any patient requiring specialized care. If needed, specialized teams and/or physicians will accompany Life Link III transport team members.
Pilots are experienced aviators and have each logged thousands of hours of flying time. They also take on-going recurrent training in their respective areas.
EMERGENCY DISPATCH 800.328.1377